CA Inter examinations are around the corner, with only 3 months remaining until the May 2022 attempt. 3 months could be considered a long period or a short period, depending on how you look at it. But if you start studying now, by taking serious note of the tips given below, we can assure you that 3 months will be more than enough time to prepare for and score well in CA Inter Audit!
Quick Note: This guide can be used post-May 2022 attempt as well.
Before we get into the details on how to score good marks in CA Inter Audit, let's look at some common misconceptions about the subject in question and how they're true.
Audit is a theory subject
This is a pretty big misconception. Audit is, in fact, a practical subject through and through. Understanding Audit is not only important for clearing the CA exams but also for a practicing Chartered Accountant. It is a subject that is studied to be applied in real-time problem-solving in the future.
You have to cram Audit to understand it
Yes, agreed, you have to cram Audit to some degree to score well in the examination. But Audit is not only about cramming. It has to be a combination of both understanding and cramming. With more stress on the understanding part. Because if you understand well, there is a limited need to cram concepts.
Audit is a boring subject and studying it is a struggle
Audit has had the ill-reputation of being a boring subject for quite some while and we believe it is untrue.
If you take guidance from trainers who know how to make concepts interesting, then you'll never find Audit boring. When real-life examples are incorporated into teaching, Audit becomes much more interesting and easy to learn.
Strategies for scoring good marks in CA Inter Audit
Study Material/Study Sources
For acing the CA Inter Audit paper, you need to start building upon your preparation with a strong foundation. And what is better than selecting the best study sources to start with?
CA students nowadays have the option of choosing from several CA institutes which offer coaching for CA exams. The prime study source should always be the material from ICAI, but, to go that extra mile for ensuring splendid results by studying with an institute is recommended in today's time.
We offer CA Inter Audit Pendrive Classes and Online lectures which can help you understand the most difficult concepts with ease and prepare for your CA exams with expert guidance. Our faculty, CA Amit Tated is renowned for his experience and guidance. Take a look at our classes for more details.
Syllabus-wise study plan
Once you have selected a good reference/study resource for yourself, you also need to put in the effort and do self-study! This is the most important aspect of any CA exam preparation.
Start with the first five chapters, i.e. from Nature, Objective and Scope of Audit to Fraud and Responsibilities of the Auditor in this Regard. Next focus on chapters 7,8 and 11. These chapters need to be understood thoroughly. Post that does chapter 10, Company Audit, i.e. the chapter with the most weightage (10-2 marks). Then do chapters 13, 12, and 6. Keep chapter 9 for last. It is a huge chapter without a proper indication of what questions can be asked from it.
One important thing to keep in mind is that you should learn the SAs along with the chapters and not keep them for the end. There are many SAs and it can get hectic to memorize them all near the end. Make sure to byheart all the important SAs.
Study with live examples
This is a short point, but a very important one. If you study Audit with only theory from the study material it will get boring and you won't be able to retain concepts in your mind. Studying Audit with live examples not only makes it interesting to learn but will also help you in remembering important concepts during exams.
Our CA Inter Audit Pendrive lectures by CA Amit Tated, cover all topics under Audit with detailed yet interesting explanations which make learning Audit easy and less time-consuming.
Attempt as many mock tests as you can
This is no secret tip. It's obvious how attempting mock tests can help you in preparing for the actual examination attempt. It can polish your skills from the paper presentation and writing speed to improved ability to recall during exams.
Attempt as many mock tests for CA Inter Audit as you can. This will help retain the concepts better in your mind and writing during the actual examination will be no big deal.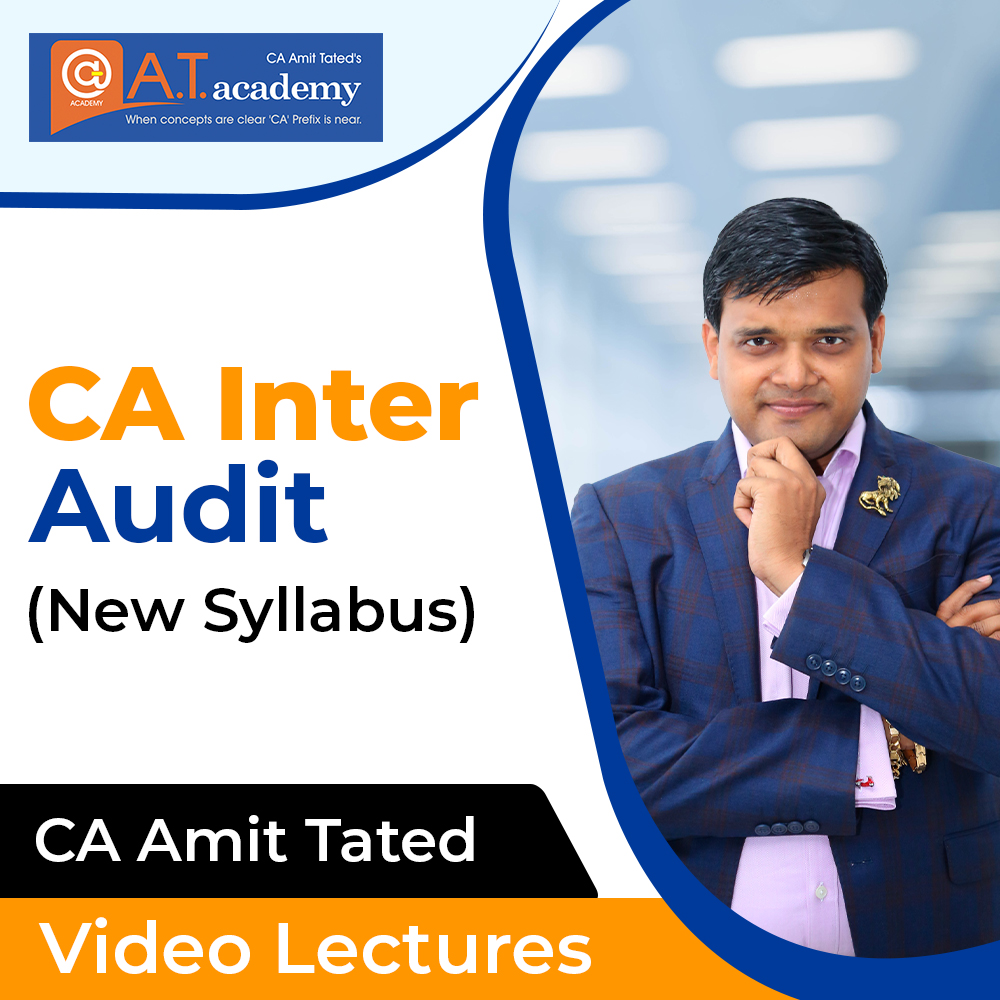 Now that we are done with the preparation strategies, let's talk about writing strategies that will help you score well in CA Inter Audit. Writing the paper well is equally important as studying for it. After all, you'll be presenting your knowledge while writing the paper and you are judged based on what you write. Following are the tips you can use to write a good CA Inter Audit paper:
Making Outlines
Making outlines in your answer sheet is a great way to improve the introduction of your answer. As you recall your answer, make an outline for it. This will help you score much better. Making graphs for your answers will convey your answer well to the examiner and they can act as an additional something that will make your answer sheet stand apart amongst others.
Use of good language
Many students lose marks in Audit because they underestimate the requirement of using good language while writing their answers. Audit is a subject wherein you have to present your answers in a technical language, and use important keywords from study materials provided by ICAI. Our CA Inter Audit Pendrive Classes have important tips on using professional language to impress paper examiners.
Presentation of Paper
Merely having knowledge of Audit concepts isn't enough. You have to showcase that knowledge in a precise and pleasing manner which can get you good marks in the examination. Common things which need to be given importance but are ignored, like starting new answers on a fresh page, using pointer/paragraphs based on the question asked, using charts and diagrams, underlining keywords, using CAPs for important phrases/words, should be kept in mind while writing your paper.
Those are all the tips we have for now on how to score well in CA Inter Audit. We're sure that if you follow these tips religiously and keep practicing, you can ace your Inter Audit paper.
If you want to learn CA Inter Audit from the best CA Inter Audit online lectures, then we have just the thing for you. CA Amit Tated's Inter Audit Pendrive lectures are detailed and have important tips for scoring good marks in the subject. They're a worthy investment for anyone preparing for their Inter Group 2 attempt!
Hope this helped! All the best for your CA exam preparation.