If you're looking for CA Inter Audit classes, you might have cleared your Foundation examination. That's great! You are now ready to take the next step in your CA journey.
And it is crucial that you choose only the best resources which will aid you in giving tangible results in your Inter examination.
CA Inter examination is definitely challenging but given that you follow the right strategy, you can surely pass with flying colours.
And the most important part of that strategy is to lay a strong foundation and clear understanding of a subject. And the right classes can help you achieve just that.
Today, we're going to specifically talk about CA Inter Audit Online Lectures and why you would benefit from choosing them over offline lectures. Keep reading for the details.
Convenience
With online classes, you can watch lectures at any place and at any time. All you need is a good internet connection and a considerately quiet environment so that you can focus. You don't have to travel far from your home just to get good quality coaching.
Pace of Classes
With CA Inter Audit Pendrive classes, you can play the lectures at your favoured speed and learn at your own pace. At offline classes, you have no option but to learn with the flow of the faculty giving the lecture. But it is not the case with online CA lectures.
Fees
CA Inter Audit online lectures are more conveniently priced than offline classes for the same subject. If you're looking for quality CA Inter Audit coaching within a budget then an online lecture is the way to go for you.
Number of views
Our CA Inter Audit Pendrive lectures have a total number of 2.5 views. This means you can watch the entire lecture 2 times and watch half the modules a third time. This is much more convenient compared to offline classes where you have to understand while the faculty is giving the lecture or else wait for a doubt clearing session.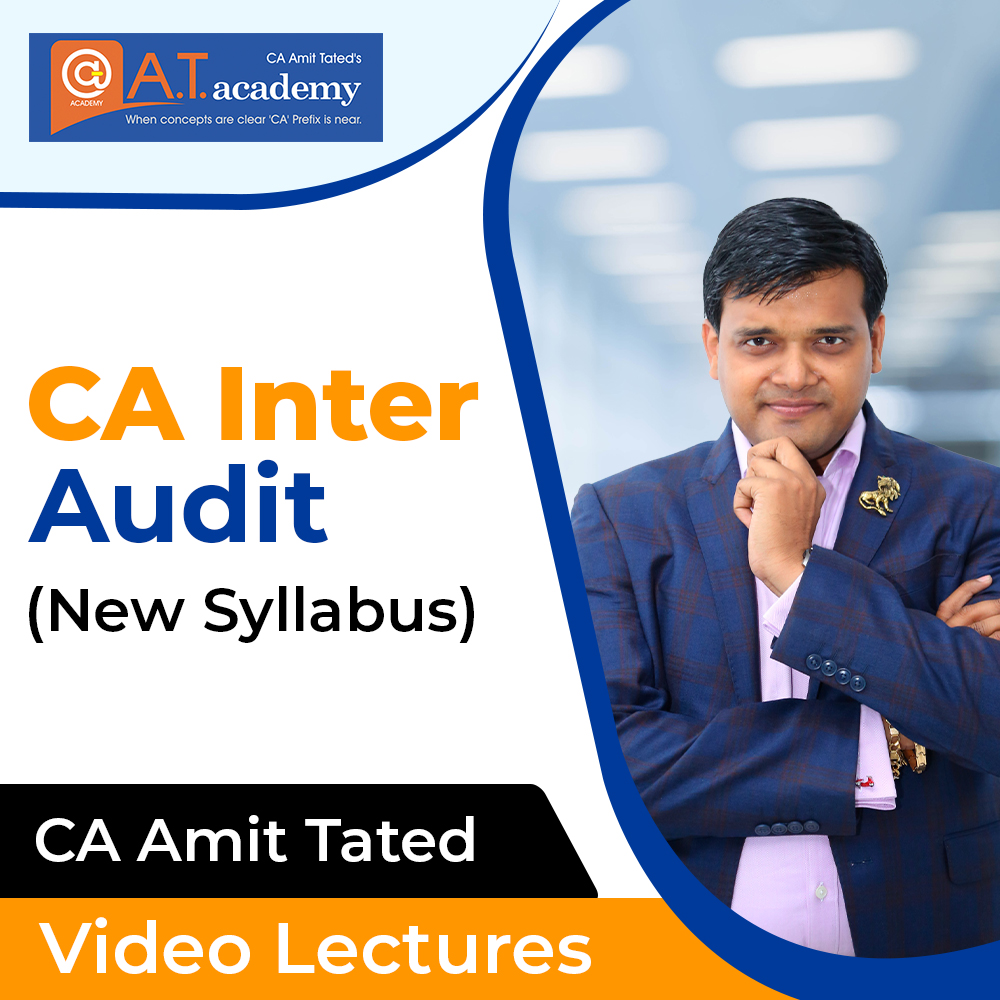 Save travel money and time
You can watch CA Inter Audit online classes at the comfort of your home or from wherever else you want to. You can save the money and time you spend on travelling to a coaching centre.
No forgetting lectures or clashing of classes
With online lectures, you can learn CA Inter Audit at your own pace and you don't have to worry about forgetting and missing a lecture in a coaching centre and there won't be the issue of clashing timings of different subject's classes.
Those were the pros of choosing online CA Inter Audit lectures over offline classes. Of course, there are cons to it as well. Some of them are: You won't have the kind of motivation which comes with a class-full of students studying together, you won't have a face-to-face session with the faculty, there might be technical issues related to connectivity and internet, you might get distracted often while studying by yourself, etc.
But there are pros and cons of both attending online and offline classes. And in today's time, with the pandemic wreaking havoc everywhere, we've all understood the importance and convenience of going digital with regard to education. It is definitely a trend that is going to last and serve you better.
Our CA Inter Audit Pendrive classes by CA Amit Tated are exclusive and cover the subject thoroughly, making sure you are prepared for your examination attempt. You can watch CA Amit Tated on our YouTube channel to get a fair idea of his teaching techniques. Being one of the top faculties for CA Inter Audit in India today, he has helped many CA students achieve their goals and clear their examinations.
With that, we have come to the end of the post. We hope you found some clarity on whether or not you should go with online classes for your CA Inter Audit preparation. All the best!